October 1st is Evernight's 2nd Birthday and we're celebrating!
Evernight Publishing opened its door two years ago. In those two years we've signed over one hundred and sixty authors and published over three hundred books. From paranormal to contemporary, we've had more best sellers than we can count and made thousands of people smile, sigh and gasp. So, as a thank you to all our readers and everyone who has supported us, we're making like a frat boy and throwing a two week birthday bash.
October 1-5 is our Scavenger Hunt starting at Smexy Books http://www.smexybooks.com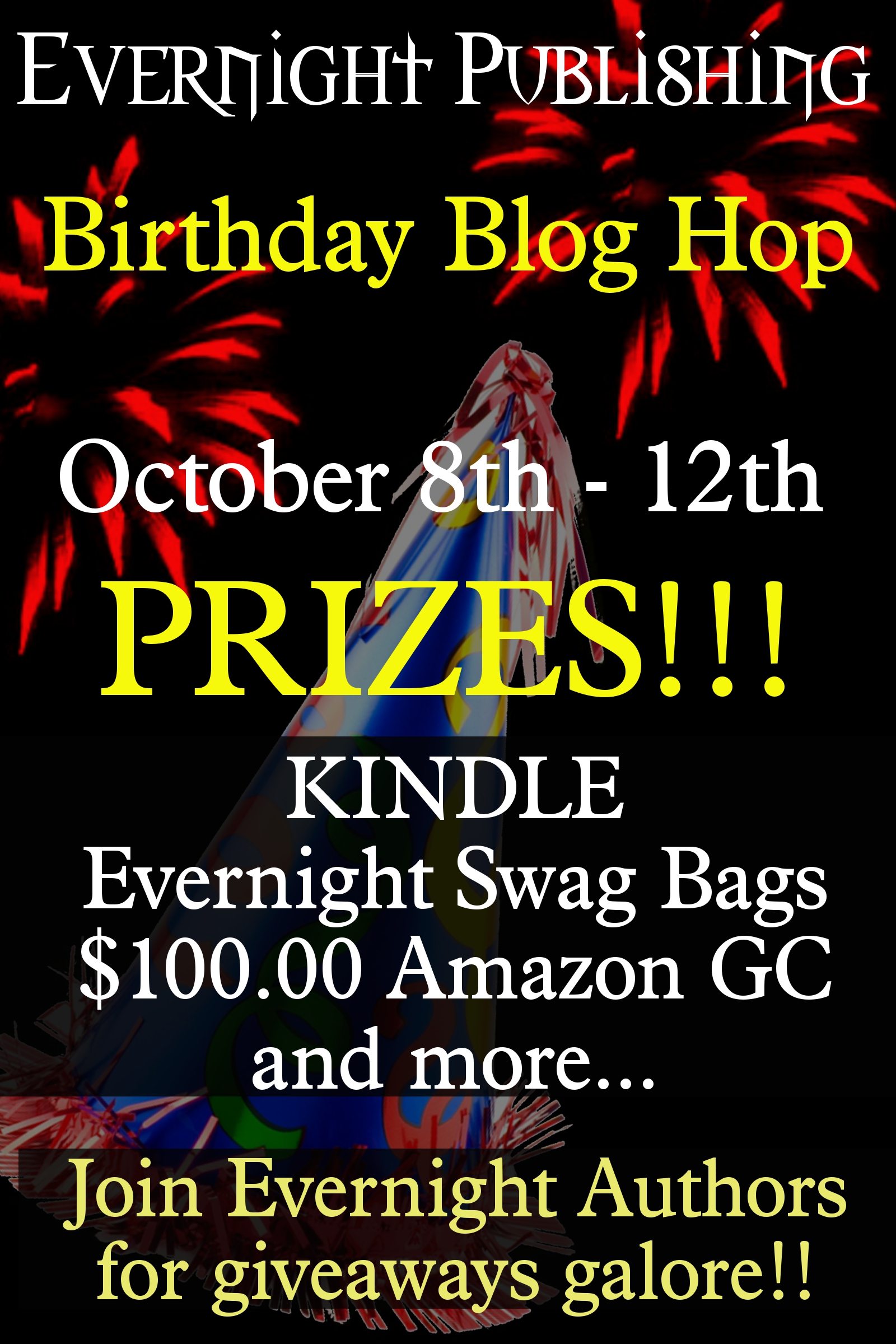 October 8-12 is our Author Blog Hop. It's huge and there are tons of prizes to be won, including many grand prizes!
Check out our blog http://www.evernightpublishing.blogspot.com on October 8th to get started
We're also having a 99¢ SALE on

Amazon Kindle

. Below is a list of books on sale for ONLY 99¢ for a limited time. There is a book from each category at Evernight, so try something new!
Romance on the Go--Moon Eyes by Marie Medina
Naughty Fairy Tales--Jackie and Her Loose Talk by Jorja Lovett
Cupid's Conquests--GunShy by Seleste deLaney
African American--Most Eligible Bachelor by Empi Baryeh
Alternative--Hero by K. Williams
Anthologies--Master of Mine
BDSM--The Diary of Anna's Submission by Jenika Snow
Contemporary--Forever Men by Lace Daltyn
Erotic--Paying Her Debt by Emma Shortt
Fantasy--Chasing Earth and Flame by Adonis Devereux
Futuristic--Whimsy by Thayer King
Historical--The Ever Knight by Georgia Fox
Humor--Prometheus Unstitched by Lila Shaw
Interracial--Riding the Storm by Delilah Hunt
May/December--The Bad Boys' Virgin Temptress by Sam Crescent
Menage--Claiming Their Mate by Stacey Espino
Multiple Partners--Riding Her Tiger by Doris O'Connor
Paranormal--Black Lust by Karyn Gerrard
Rubenesque--Three for the Road by Berengaria Brown
Sci-Fi--Star Fallen Lover by Lynde Lakes
Seasonal--Deception by Yolanda Sfetsos
Shifters/Vampires--Irresistible Nemesis by Annalynne Russo

Steampunk--The Promise of Silk by Lilith Duvalier
Suspense--Last First Kiss by Vanessa Devereaux

Time Travel--The Curse of the Scarab King by Wend Petzler

Urban Fantasy--Losing His Religion by Alex Bowman

Western--Wild West Weekend by R.M. Sotera and C.R. Moss
And if you love to shop at All Romance Ebooks, ALL our titles are

50% OFF

October 1-14!!